Bioprocessing Industry Veteran Appointed as New Strategic Advisor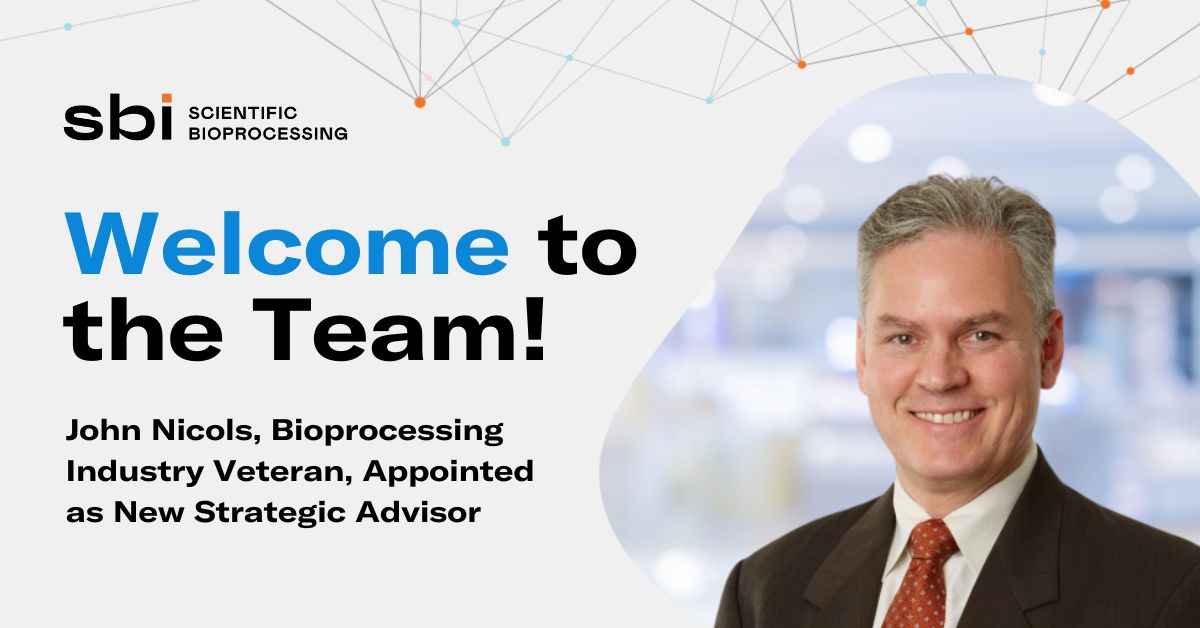 We at sbi are excited to announce that John Nicols has joined our senior management team as a Strategic Adviser to help us push the boundaries of digitally simplified bioprocessing. With over three decades of experience in the biotech world and exemplary leadership in biotechnology and specialty chemical companies, Nicols brings a wealth of invaluable expertise to our organization.
"Optimizing and scaling fermentation processes is currently a major bottleneck constraining the enormous potential for synthetic biology to disrupt global manufacturing supply chains. Scientific Bioprocessing (sbi)'s DOTS platform and new sensors for shake flasks will liberate that constraint by enabling a new, low cost approach to accelerate fermentation process development. DOTS turns the 'humble' shake flask (of various sizes) into a leading edge bioreactor, enabling much lower cost fermentation process parameter generation and optimization than currently available alternatives", said Nicols. "Advising the Scientific Bioprocessing team is an honor and I look forward to working alongside such an impressive team as the company launches its new DOTS products for digitally simplified bioprocessing into the market."
John Nicols is renowned for his exceptional contributions to the biotechnology sector. As the former president and CEO of Codexis, he spearheaded the transformation of the company into a leading synthetic biology powerhouse, achieving remarkable milestones in product sales and diversification. Under his leadership, Codexis' product sales surged nine-fold, surpassing the $100 million mark and introducing numerous groundbreaking products across pharmaceutical, food and nutrition, and life science tools verticals. Prior to his tenure at Codexis, Nicols held various executive roles over his 22-year tenure at Albemarle Corp, where he played a pivotal role in catapulting the largest business unit to over $1 billion in global sales.
John's academic journey includes an M.B.A. from the Massachusetts Institute of Technology and a B.S. degree in chemical engineering from the Polytechnic Institute of New York University. Currently, he serves as Chairman of Antheia, a synthetic biology-based producer of Key Starting Materials and Active Pharmaceutical Ingredients (API's) for the pharmaceutical industry.
"We're pleased to welcome John as a Strategic Advisor at this important stage of our company's growth where we are launching DOTS - our new sensing platform which enables more bioreactor-like experiments in shake flasks," said Helena Santos, CEO of Scientific Industries. "John is one of the most well-respected leaders in the industry, and his experience growing biotech companies from R&D to commercial scale operations will be invaluable as we work to bring our next-generation DOTS multi-parameter reader and sensors to market."
---
About Scientific Bioprocessing, Inc.
Scientific Bioprocessing, Inc. (sbi) offers solutions for digitally simplified bioprocessing in the life science industry. sbi's DOTS platform provides modern bioprocessing sensors (for e.g., biomass, pH, or dissolved oxygen) and actuators, along with an innovative software for easy sensor control and data monitoring. The platform enables customers to optimize their bioprocesses and product yields. sbi is committed to delivering exceptional customer service and is a subsidiary of Scientific Industries Inc. To learn more, visit www.scientificbio.com
About Scientific Industries
Scientific Industries is a life science tool provider. It designs, manufactures, and markets laboratory equipment, including the world-renowned Vortex-Genie® 2 Mixer and balances; customized catalyst research instruments and bioprocessing systems. Scientific Industries' products are generally used and designed for research purposes in laboratories of universities, hospitals, pharmaceutical companies, and medical device manufacturers. Please visit www.scientificindustries.com.
Safe Harbor Statement
Statements made in this press release that relate to future events, performance or financial results of the Company are forward-looking statements which involve uncertainties that could cause actual events, performance or results to materially differ. The Company undertakes no obligation to update any of these statements. Readers are cautioned not to place undue reliance on these forward-looking statements, which speak only as to the date hereof. Accordingly, any forward-looking statement should be read in conjunction with the additional information about risks and uncertainties set forth in the Company's Securities and Exchange Commission reports, including our annual report on Form 10-K."
Company Contact:
Jens Bayer - Vice President Marketing - sbi
jens.bayer@aquila-biolabs.de