aquila biolabs Acquisition Significantly Expands Scientific Bioprocessing, Inc.'s Capabilities and Talented Team

Scientific Bioprocessing, Inc. (SBI) recently acquired aquila biolabs GmbH (aquila), a privately held German technology developer of smart sensors and state-of-the-art data analytics software for bioprocessing applications.
John Moore, SBI's President, stated, "This is really a humbling experience and just so exciting. We feel that acquiring aquila is going to catapult SBI and open up new horizons for our team, our customers, and the industry. We believe that this new and better SBI will democratize digitally simplified bioprocessing, where cell research scientists are able to push a few buttons to get the data and answers they need," stated Moore.
Digitally simplified bioprocessing occurs when the power of leading-edge sensors, tools, and hardware meet powerful, intuitive software, creating a closed-loop system that can fully leverage the power of machine learning and artificial intelligence. This empowers research scientists to gather actionable insights in real-time, in any cultivation vessel, while tapping into the vast potential of Big Data analytics.
"This acquisition will ultimately make it easier for bioprocessing research scientists and engineers across the globe to transform bioprocessing from being a 'Black Box.' The more we understand the secrets of cells, the faster biopharma can streamline the drug development process, reduce costs, and improve speed to market of new, safer, revolutionary products, including cell and gene therapies and lab-engineered organs," Moore added.
Prior to the acquisition, aquila was one of the top startup companies in Germany. Founded in 2014, the company won several prestigious awards early on, including the EXIST scholarship for startups from the German Federal Ministry for Economic Affairs and Energy. The company also took 3rd Place in the Science4Life Venture Cup, Europe's biggest business plan competition for life science startups. The company's technology, leadership team, and strong momentum caught the eye of investors, earning aquila a seven-digit Seed funding round in 2015 that included Qiagen Co-Founder Dr. Jürgen Schumacher. aquila grew quickly to over 250 customers in 25 countries and 20 employees.
"SBI was looking to penetrate the EU market, and we've been doing well in that market for years. And we were looking to expand our U.S. presence," added Jens Bayer, new VP of Marketing and former co-founder of aquila biolabs.
Daniel Grünes, new VP of R&D and Operations and former co-founder of aquila biolabs, feels the same, stating, "We are very strong at software and hardware and have highly effective biomass sensors. SBI has the chemical sensors we didn't have. Combining our technology, talent, and customer bases is creating something better. This is a perfect fit."
Indeed, SBI and aquila have complementary smart sensing technologies that deliver non-invasive, real-time, automated monitoring of bioprocess parameters. Where SBI's ID·Fiber Optic Kit and ID·Developer's Kit monitor mammalian cells, aquila's sensors are designed for microbial fermentation processes.
aquila's sensing products include its Cell Growth Quantifier (CGQ), which is a smart sensor-based technology that offers highly parallelized, non-invasive online monitoring of biomass in shake flasks and other cultivation vessels. aquila also created CGQ BioR, which powers non-invasive, online monitoring of biomass in glass and single use plastic bioreactors using backscatter measurements through the bioreactor wall.
SBI will also add aquila's Liquid Injection System (LIS) to its bioprocessing portfolio; a unique product that for the first time allows for automated feeding of shake flasks.
"LIS is a gamechanger," stated Moore. "Automating the liquid feeding process and being able to control and adjust cell conditions in a shake flask is really incredible. LIS together with our sensor portfolio has the potential to turn any shake flask into a bioreactor and brings us one step closer to a true closed-loop cell culture process."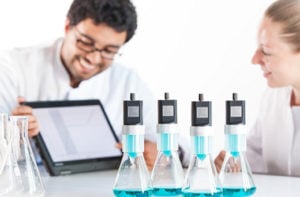 What's more, SBI is significantly upgrading its Big Data capabilities by acquiring aquila's CGQuant software and its associated pipeline of innovative software projects. This will be the cornerstone for a leading-edge bioprocessing data analytics software that will deliver deeper insights into the cell culture environment.
"There are synergies at every level. When we met SBI a few years ago, we had the same vision and thought 'Why not try to create this change together?' This partnership grew organically, and we share the same vision and work culture. It's a great combination of younger talent and energy with industry veterans like Reinhard Vogt and Daniela Winzker-Demes and experienced leaders like John Moore and Bucky Polk. We're all ready to run fast together in the right direction," Daniel Grünes added.
"As SBI explored the breadth of available technologies that could spearhead digitally simplified bioprocessing, aquila's approach stood out as the most impressive one," said Reinhard Vogt, Chairman of SBI and former Executive Vice President and Member of the Board of Sartorius AG. "In addition to a strong pipeline of advanced sensors and data analytics tools, this strategic acquisition adds new talent to our already strong team and expands SBI's footprint into Europe."
The merger of SBI and aquila signals a new day for cell culture and bioprocessing, where everything needed to unlock the 'Black Box' of bioprocessing can be procured from a single source backed by one of the best teams in the business. Digitally simplified bioprocessing is the future.